Axis Network Cabling (561) 907-7118 Offers Structured Voice / Data Network Wiring Installers in Palm Beach, FL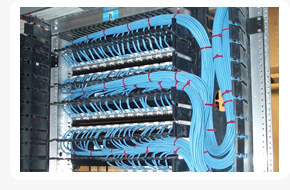 Thank you for your interest in Axis Network Cabling for all of your Voice and Data Wiring needs in Palm Beach, FL.
With thorough attention to details and a commitment to meeting the individual needs of our clients, our customer service and communication are our strongest attributes in today's competitive market.
With over 15 years operating in the South Florida market, and a wealth of experience in new technology, Axis Network Cabling is the leader in Computer & Network Wiring services for your business.
We have the experience and staff to provide you with Voice and Data Wiring and Structured Cabling & Wiring installations in the following areas:
» Structured Cabling and Wiring (Voice, Data & Video) Installations
» Relocation and Upgrade Installations of CAT5 Data and Voice Cabling
» Cat5e, Cat6, Fiber Optic, Coax Cabling Installation
» Server Room / Computer Room Build Out
» Server Room / Computer Room Clean Up
» Server Room / Computer Room Cabling and Wiring
» Data Room / Computer Room Cabling and Wiring
» VoIP / Telephone Cabling and Wiring
» Voice Cabling and Wiring
» Structured Cabling and Wiring
» Telco Room / Computer Room Cabling and Wiring
» Rack Mount Cabling and Wiring
» CAT 3 / CAT 5E Cabling
» CAT 6 / CAT 7 Cabling and Wiring
» Patch Panel Cabling and Wiring
» Patch Panel Terminations
» Telephone Extensions / Additions
» Fiber Optic Cabling and Wiring
» Coaxial Cabling and Wiring
» Cabling Wire Management
» Cabling Wiring Removal / Cleanup
» Telephone Cabling and Wiring Systems
» VoIP Telephone Systems Installation and Set Up
» Telephone Jacks Installation and Repair