Fiber Optic Cabling & Wiring Installations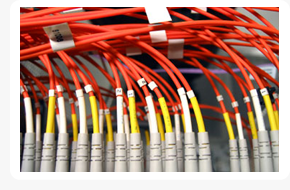 Axis Network Cabling is one of the most experienced and established fiber optic installation companies in the Miami, Fort Lauderdale and Palm Beach areas. We specialize in the complete installation of business communication systems with Fiber Optic voice and data cabling design and infrastructure.
We are committed to supplying the equipment and systems which build a scalable network that will meet your company's needs not only today, but for many years in the future.
As a Fiber Optic contractor, in addition to Fiber Optic Cabling, we work with Cat 5e, Cat 6, Coax, Horizontal Cabling, Backbone Cabling, Server Room, Data Room Building / Datacenter Build outs.
Construction services
» Fiber Optic installation
» Fiber Optic Cable Termination
» Fiber optic cable splicing
» Full scope design and maintenance for fiber cabling
» Aerial cable placement
» Conduit rodding, cleaning, and cable pulling
» Underground conduit construction
Fiber Optic Installation Types
» Multimode Cable
» Single Mode Cable
» FDDI
» ST/SC Connectors
» Fiber cabling
» Premise Data Networks
» Fiber Optic, Multimode, SC, ST, Indoor
» Outdoor - Fiber Optic Cabling
» Multimedia Outlets
» Wall or Rack Mounted Cabinets
Fiber vs Copper
The race between Copper and Fiber was won, and the incontrovertible winner is Fiber... Whether for IP streaming video for residential consumers, Virtual Private Networking (VPN) for telecommuters, or point-to-point T1 services for businesses, only Fiber Optics can satisfy the wide-ranging needs of an entire community.
Fiber Optic contractors know that the use of a Fiber Optic Network minimizes maintenance expenses because the in Fiber Optic Network signals are not affected by electrical noise. Exempt from FCC-mandated sweeps, fiber reduces operation and maintenance costs for an outside plant. Fiber also drives much longer loops than copper and there is no ongoing plant tuning. Additionally, the Fiber Optic Network has an estimated Interior/Exterior, LAN, WAN, and Plant life of more than 35 years. On the other hand, copper cable is delicate. It only has a 25 pound pulling tension limit and kinks will ruin the high speed performance. With fiber - even though it's glass fiber - it has more strength and greater tolerance to abuse than copper wire.
Not too many years ago, fiber was a novelty, and there was little fiber optic installation experience in the industry. Copper was the king. In today's high speed networks the reverse is true. While copper is restricted as far as speed, fiber can look at the very high speed industry future with supreme confidence.
The Secret To Success In Fiber Optics Installations Is Training!
Our stellar reputation among Fiber Optic contractors is due to the continuous investment we make in training each Fiber Optic Cable Technician on our staff. We are a South Florida Certified M/WBE. We are fully insured and carry all manufacturers. There is no job too small or too large. Whether you require one line or one thousand lines, we will do the job efficiently, to spec, and on budget.
Recent Fiber Optic Installations in Miami, Fort Lauderdale & Palm Beach FL