Abandoned Cable Removal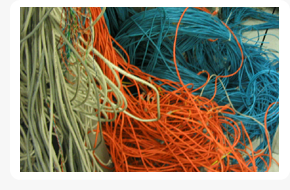 Abandoned Communications Cable is defined by the National Electric Code {NEC} Article 800.2 as the following;
Installed communications cable that is not terminated at both ends with a connector or other equipment and not identified for future use with a tag.
The code was put in place due to increased hazards of unused cable that acts as an accelerant and adds fuel to fires in ceilings, walls or ventilation systems. Large amounts of abandoned cable have been left behind in buildings in past years from decades of occupancy. As per the 2002 NEC, building owners are responsible for abandoned communications cable removal upon vacancy of tenants.
The building owner can hold the tenant responsible for the cable removal and cost by agreement prior to lease signing and move-in. If no removal agreement is made the landlord will have the sole responsibility.
Abandoned cable removal can be a difficult and confusing task since there can be a great variety and type of cabling left behind in walls and ceilings over many years of occupancy. Axis Network Cabling has over 12 years experience in structured cabling and can efficiently determine what is abandoned and remove all necessary cable and components from any vacated premise. Don't hesitate to contact us for a free survey and written estimate.
Literally, miles of cabling left in the ceilings and in the walls from previous network and power installations by previous tenants have accumulated in most of our buildings. These abandoned cable are a source for fueling fire, smoke and lethal toxic fumes that can incapacitate and kill.

Due to changes in the 2002 edition of the National Electric Code (NEC), these abandoned wires may now render your property out of code, jeopardize your fire insurance, and represent a significant legal liability. The new rules make it a violation to have abandoned wires in your building's risers or plenums and, in addition, mandate the use of specific wiring standards for new installs.
The new NEC rules are quite complex, and often confusing, causing building owners to wonder which way to turn. Axis network Cabling has the knowledge and practical expertise to guide you through this rather murky area of danger and liability related to abandoned wiring. Furthermore, we have a highly skilled technical staff capable of performing the identification and removal task according to code and very economically.
Looking forward, we support the efforts of each building owner to amend leases and residential rules, so at the building remains in compliance after each tenancy. On the other hand, in support of commercial Tenants/Occupants, we provide technical expertise and cabling installation / cabling removal services which are fully compliant with NEC requirements and can avoid end of lease penalties.
Abandoned cable can easily be found in hospitals, schools and office buildings that were built many years ago, and then expanded in recent years. Particularly vulnerable and in need of urgent corrective action is the healthcare industry, where abandoned cables abound and safety concerns are a high priority.
Recent Cabling Installations in Miami, Fort Lauderdale & Palm Beach FL