Voice and Data Cabling & Wiring Installations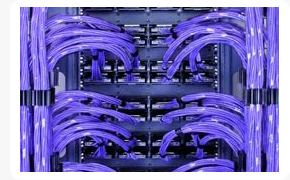 Axis Network Cabling provides complete cabling services throughout South Florida. Whether you need basic phone system cabling, data network cabling, fiber optic cabling, coax cabling, server room cabling, or wireless network infrastructure cabling, we've got you covered!
See information below:
» Cat3 Cabling
» Cat5e Cabling
» Cat6 Cabling
» Cat7 Cabling
» Fiber Optic Cabling
» Coax Cabling
» Wireless Infrastructure Cabling
» Server Room Cabling
» Cable Testing
» Telephone System Cabling
» Voice Cabling
» Data Cabling
» Video Cabling
» Surveillance Camera Cabling
» Data Network Cabling
Cat3 Cabling
Most commonly called Cat 3, this unshielded twisted pair (UTP) cable is designed to carry data loads up to 10 Mbit/s, with an achievable bandwidth of 16 MHz. Cat3 was a popular cable with computer networks in the early 1990s but fell out of popularity because of the similar, but higher performing, Category 5 standard. Cat 5 is now becoming obsolete, and most new cable installations are implemented using Cat 5e or Cat 6 cable. Cat 3 is still used in two line telephone systems installations, although Category 5 or higher does the same work and would allow future transition to VOIP at a later date.
Cat5e Cabling
Category 5 cable, most commonly known as Cat 5, has four twisted pairs in a single cable jacket. It's an unshielded twisted cable pair designed specifically for high signal integrity. Back in 2001, with the inclusion of the TIA/EIA-568-B standard, the CAT 5 cabling specification was made outdated and obsolete, and was then superseded by the category 5e specification. It is commonly used for 100Mbit/s networks, but with IEEE 802.3ab defined standards can also support 1000BASE-T - gigabit Ethernet over cat 5 cable.

Cat6 Cabling
Cat 6- Category - 6, (ANSI/TIA/EIA-568-B.2-1) CAT6 contains four twisted copper wire pairs and is a cable standard for Gigabit Speed Ethernet and additional network protocols that is backward compatible with both Category 5/5e and Category 3 standards. The CAT6 cable standard is usable for 10BASE-T / 100BASE-TX and 1000BASE-T (Gigabit Ethernet) connections, and provides outstanding performance up to 250 MHz. When CAT6 is used for a patch cable, Cat6 is typically terminated with an RJ-45 connector. All cables defined by TIA/EIA-568-B have the maximum allowed length of 90 meters, including CAT6. A complete channel may be up to 100 meters. (Including horizontal cords on each side of the run)

Fiber Optic Cabling
Fiber Optic cabling provides much greater bandwidth than standard copper wiring options and is commonly used for backbone connections between local networking pieces of equipment. It is the preferred choice for most IT staffs for the superior quality and high reliability it provides. Although the cost can be prohibitive for your typical desktop applications, fiber optic cabling provides the high security link possible with immunity from EMI (electromagnetic interference). It has now also become the preferred standard solution for inter-building links, inter-network links, and additional connections that are beyond the maximum 90 meter limit for Category 5e copper cabling.
Several types of fiber optic cabling systems are offered, and all of our cables are graded for either internal or external.
Coax Cabling
Coax cable is an electrical cable most commonly used in high speed broadband and video applications. Coaxial cable consists of a round conducting wire, an insulating spacer surrounded with a cylindrically shaped conducting sheath, and is usually surrounded by a final insulating layer. Coax is used as a high-frequency transmission line to carry high-frequency broadband signals or video applications.

Other Cabling
In addition to the above cabling options, we also supply wireless infrastructure cabling, server room cabling, data cabling, voice cabling, video cabling, surveillance camera cabling, data network cabling, and phone system cabling.
Most projects are bid on a per drop or combo drop basis with average run of drops 100' and under. Projects outside of standard scope will be bid on site with one our our cabling professionals.
Recent Telephone Cabling Installations in Miami, Fort Lauderdale & Palm Beach FL